My former roomate sent this in, because she liked it:
"Just a different way of incorporating the foods we love! I particularly liked the pesto! And who knew pesto was easy to make! #loveit!"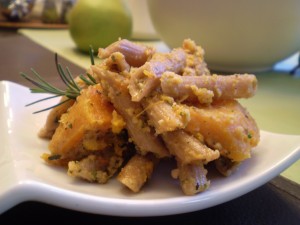 Yield 4 servings
8 ounces whole wheat penne pasta
1/2 cup plain soy creamer
2 cups 1-inch pieces of roasted butternut squash (Halve squash lengthwise, remove seeds and pulp, cut into pieces, toss with a tiny bit of olive oil, and roast approximately 20 minutes in a 450 degree oven, stirring after 10 minutes.  I find it easier to peel it when it is cool enough to handle, but you can peel it before roasting.)
Sea salt and freshly ground black pepper to taste
Optional garnish: sprigs of fresh rosemary
THE PESTO
1 cup fairly firmly packed torn kale leaves, thick or tough stems removed
1 cup chopped walnuts
1 large garlic clove
1 tablespoon fresh rosemary leaves
1 tablespoon nutritional yeast
Juice and zest of 1/2 of a medium lemon
1 to 2 teaspoons maple syrup
Sea salt to taste
Freshly ground black pepper to taste
1 /2 cup or more olive oil (up to about 3/4 cup or so)
Place kale in the bowl of a food processor and pulse until very finely chopped.  Add remaining ingredients, except olive oil, and pulse until kale is minced and walnuts are very finely chopped.  With motor running, drizzle in olive oil until desired consistency is reached.  Adjust seasoning, citrus and sweetness if necessary.
THE PASTA
In a large pot of boiling, generously salted water, cook pasta just until al dente, about 8 minutes.   Meanwhile, in a medium bowl, whisk together pesto and soy creamer.  If you want the sauce to be a little looser, whisk in olive oil, a tablespoon at t time, until desired consistency is reached.  When pasta is cooked, drain, return to pot, and place over medium heat.  Immediately add sauce and toss together quickly.  Then add butternut squash and toss gently again.  Check for seasoning and adjust as necessary with sea salt and freshly ground black pepper.  Remove the pot from the heat and serve the pasta immediately topped with sprigs of rosemary if desired.